Canada Day celebrated 150 years since Confederation this past weekend, and saw a slew of festivities occurring across the nation – including the return of Platform & Embrace's Electric Island. With the last event held at Woodbine Park, this time around we spent the day in the Portlands, near REBEL Nightclub; it welcomed techno legend Richie Hawtin, along with Maceo Plex, Recondite, Roman Flügel, Chaim and Atish. The day also paid homage to our locals – Talal & Zoi and Chris Larsen were at the main stage, whereas Borzoo, Aleksandar Kojic and Nadia were pumping out some grooves at Stage 2.
Although there was nothing but concrete for this event, it was nonetheless the perfect way to chill with friends, out in the sun – save the bouts of rain earlier on in the day. Thankfully, ponchos were provided to mitigate the inconvenience as shufflers took to the puddles, before and after the skies cleared up.
The FUX crew got in touch with some attendees at the event, who were kind enough to share their insight to all things Canadian!
Brad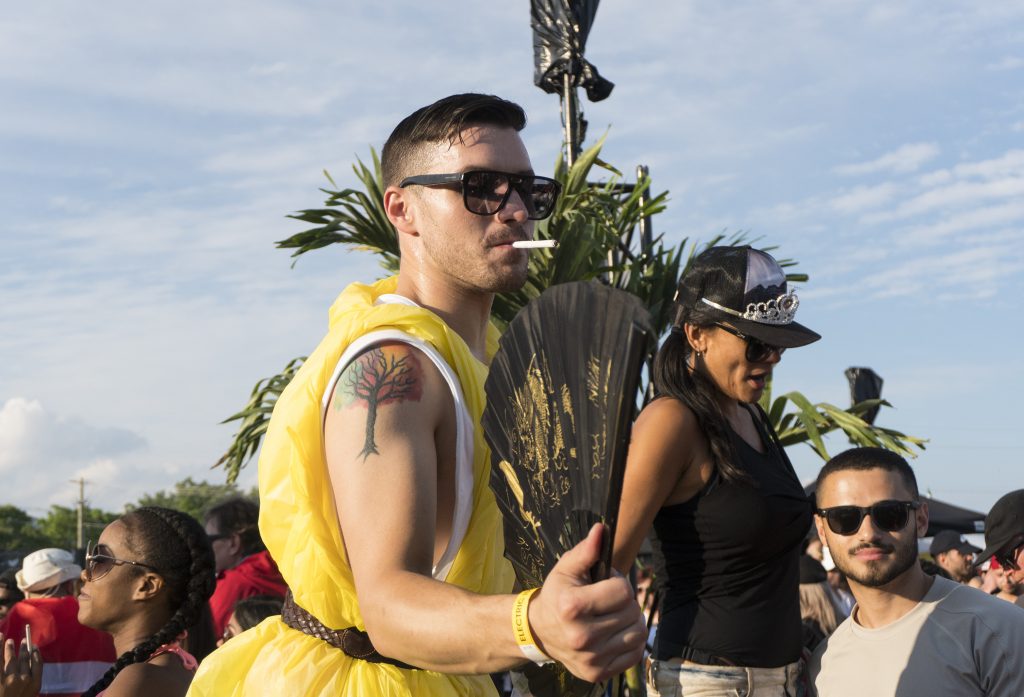 Favourite Canadian artist(s):
Phil Collins (we made him an 'Honorary Canadian')
If you were Prime Minister for a day, what would you do?
If I were Prime Minister for just one day? I would probably take over the renovation of 24 Sussex, and change the whole plan.
What does your 'dream poutine' look like?

My dream poutine would have Montreal smoked meat, mushrooms, and green peas.
What's your opinion on the different 'Electric Island' venues?
I don't actually know if it would be better on the island, 'cause I had more fun at Woodbine! Either way, both of those were more fun than a parking lot. I hate parking lot parties! Is this the summer of parking lot parties? Woodbine was awesome in its own way, and I still have an affinity for Toronto Island, [and feel]that they can have this party anywhere. But it should be on the island.
…In fact, this Labour Day, we are actually doing an overnight trip on the island, 'cuz Electric Island is a two-day festival. Last year, I made the foolish mistake of sleeping over the last day, instead of the first day… and it switched over to the fall schedule that night, so we couldn't get a ferry back until 8am! People were riding on me getting home from the event I went to [the other]night, and I'm stumbling in from a night in the wilderness at 8 in the morning.
—
Lauren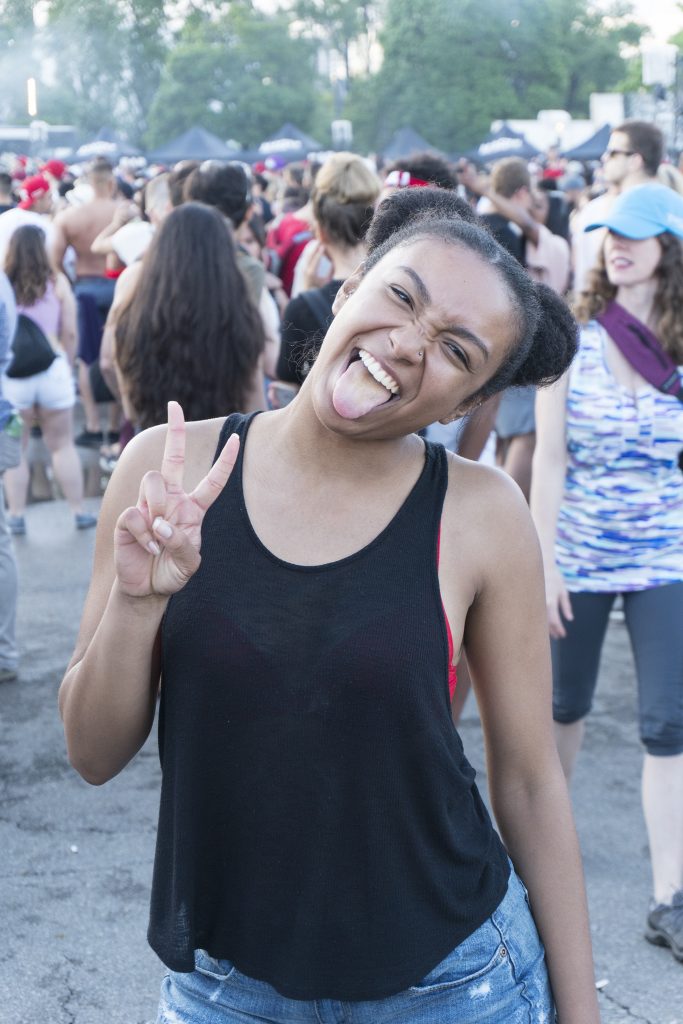 Favourite Canadian artist(s):
Shawn Mendes, Drake
When I say Canada, what's the first thing that comes to mind?
Free healthcare.
What do you think about the Tim Hortons poutine doughnut?

I would definitely eat that right now! Honestly, if you put gravy and cheese on anything, it's fine. It's Canadian!
Aside from Electric Island, what do you normally do for the Canada Day weekend?
Not much, really. Just hang out, and watch fireworks at Wonderland.
—
Rachel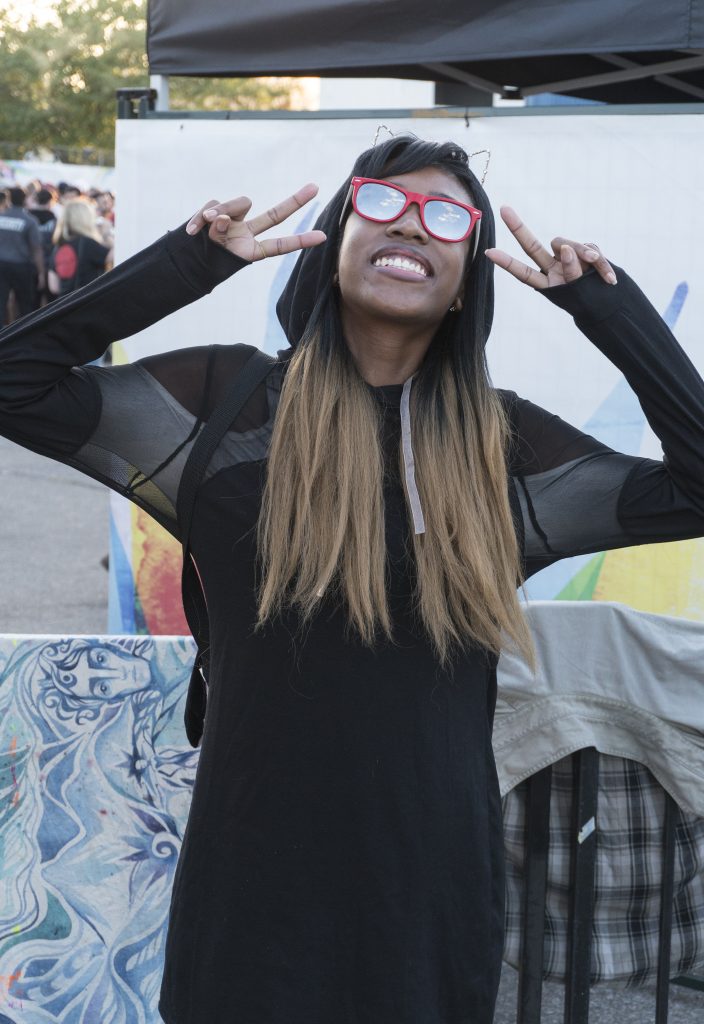 Favourite Canadian artist(s):
Drake, The Weeknd
What landmark/reference is the most Canadian to you?
Definitely the CN Tower, and anything with 'sorry' – we apologize a lot.
If you were Prime Minister for a day, what would you do?
Hmm… I don't think a day's enough time to fix anything – there's a lot to do.
If you had more time, what would you do then?
I'd fix this country. Healthcare's doing well, but we need to speed it up and invest more in schools – and help the Aboriginal people, it's their land! And just help, in general. I'd help a lot.
Aside from Electric Island, what would you normally do on the Canada Day weekend?
Usually I'm working, but I'd just be at home otherwise.
—
Karam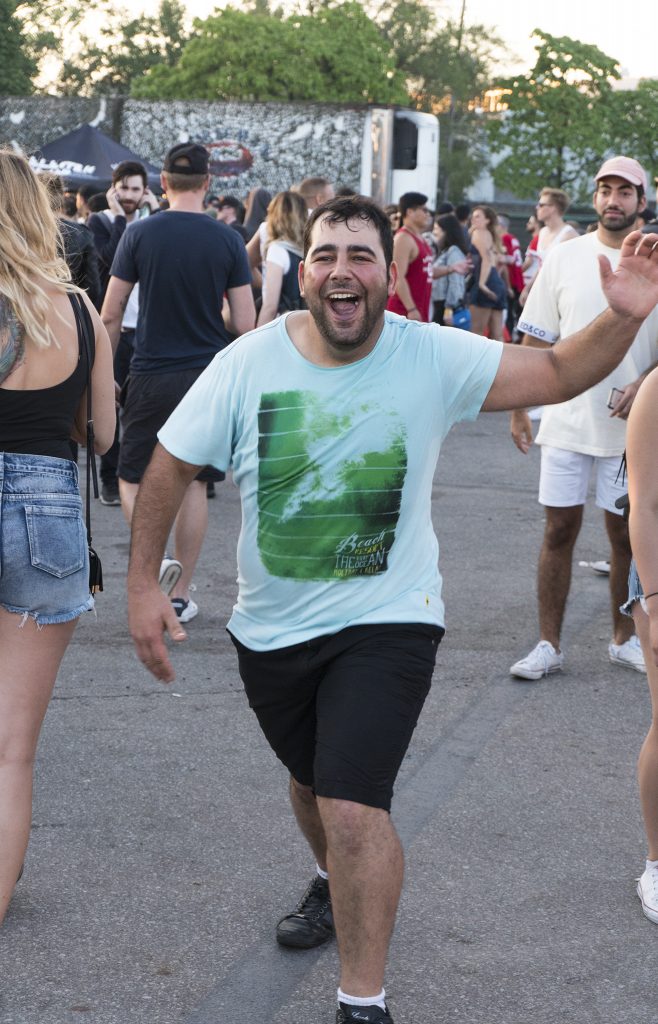 Favourite Canadian artist(s):
k-os, The Rascalz
What does your 'dream poutine' look like?
The gravy would actually made out of demi-glace – so there's no butter, no flour – actual beef reduction. Then, you make a goat ragù, in which you grind up goat shoulder, and then cook it all the way down for 8 hours, with some onions. And then you put cheese on top of all of it.
(editor's note: It turns out Karam is actually a chef.)
Who are you most excited to see at Electric Island?
RICHIE HAWTIN!
What's your opinion on the different 'Electric Island' venues?

I feel that it's better, because when you're taking the ferry, there's the hassle of getting on, then getting there, and then waiting in line – over here, I parked down the street, and I didn't even have to pay for parking! Last time I went across, I had to pay $25. This time, it was very straightforward.
The only sad thing about this is that there's no grass! If you don't have the proper shoes, when you're trying to dance, your shoes get stuck, and it fucks up your dance moves. But other than that, it's fucking cool!
—
As Richie's set was coming to an end, the night sky lit up with a plethora of fireworks, erupting from the CN Tower. Such a spectacle started a large unison singing of 'O Canada', along with more fireworks going off by the Harbourfront.
The next event takes place on the August Civic Holiday (Monday, August 7). The line-up will feature
Nina Kraviz
,
KiNK
,
Mano Le Tough
, and
Jackmaster
headlining Stage 1, and
Deetron
and
Dâm-Funk
over at Stage 2. There will be local support from
Jonathan Rosa
and
Nature of Music
, as well as
Greg Gow
,
Addy
, and
Jeremy Stott
, at each respective stage.
RSVP
, grab
tickets
, and secure the date!
Check out some recap shots of the Canada Day celebration, courtesy of Martin Berrysmith.