While hanging out with Two Owls in between their sets at Global Dance Festival and their performance at Beta Nightclub in Denver, Colorado, I got to glimpse moments of this duo's dynamic, and what the effect of their sudden step into the lime light has had on their music, their friendship, and their lives.
FUXWITHIT has had been watching the rise of this genre-bending production team since before their metamorphosis into Two Owls. You may have heard them as Nightowls. This change in title was a risky endeavor since the pair was just starting to get attention under their first moniker. The re-branding process is not an easy one to endure, and come out from under, but they managed to do it, and have been tearing up summer performances. When I heard that they would be playing in Denver opening up for What So Not at one of the best electronic nightclubs around, I was psyched to see them mix in the flesh. Little did I know what the universe had in store.
As part of any first time in a new venue, I had to check out all the amenities, and while I was leaving the ladies room the cosmos had me cross paths with Two Owls's tour manager, Jess Thayer. This chance encounter set me up for an unforgettable night, and an exclusive look into the world of budding EDM producers Two Owls.
After introductions I was led down to the greenroom, where I was introduced some more while chatting and feeling the excitement rising before their set. When the time came, Jess lead me to the main floor, across the front of the thick crowd, behind a security gate, and behind the booth where it's already show time. I saw all the drops, slick transitions, and wave after wave of love from the crowd from over their shoulders.
Before the end of the night, I still had questions, and met up with the group the next day. It may have had something to do with a Bloody Mary buffet, pork belly over poached eggs, and a trip to the liquor store for Tequila. Nothing like a good brunch after a dirty set. Once it was just the three of us, Andrew Sierra and Scott Dro shared with me their visions of future electronic music and what riding the wave of Bass music is like.
What is it like navigating the industry as a duo?
Scott: I have this weird theory about duos, I think that it used to be that duos had a disadvantage, because it doesn't take a lot of skill to press buttons on a CDJ, but in the future CDJs are going to become less of a mandatory thing, and as the years go by, it will incorporate more live aspects: a keyboard, a launch pad, maybe singing, maybe having a guitar. A duo has the advantage. It is way easier as two people than just one. Collaborating on art is pretty natural, but as far as navigating the music scene, it's definitely got its perks.
Andrew: It's gotten weird, like we work on music separately. He can make a full song with out any of my input, and vice versa, and we used to be able to tell the difference, but now you can't really. We know our sounds.
Scott: We have the same overall picture.
What is the best part of being a two person act besides the stage aspect?
Andrew: It's nice to have someone to bounce idea off of. It's always great to have someone there with you for the ride.
Scott: It's nice to be with someone who is just as embedded and has just as much risk involved in it as you do.
Andrew: Someone to reap the benefits with.
What tips would you give up and coming producers?
Andrew: I tell this story every time some one asks me that: I had a fan in Seattle who was venting to me, reached out on my personal Facebook,"I just moved to Seattle, and I used to DJ a lot in my home town,"- That's your first problem. You are complaining about moving, and you were a local DJ because you probably promoted, blah, blah, and I almost feel like an asshole after because I was brutally honest, you need to buckle down, create music, create a brand, market yourself, and I wish I had some one to tell me that. That's my biggest advice, and I learned a lot about that in the beginning. Making music is important. I was just a DJ before, and I remember having to promote myself and sell tickets, just to play a set. I told myself I wouldn't take another booking, until I could confidently DJ my own set.
Scott: For any artist in general, this is a high risk, high reward lifestyle. There is a huge chance that you can fail, but there is a tiny minority that do succeed, and when they do succeed, they succeed tremendously.
Andrew: We both agree, I quit my job, I was making a decent living, but it wasn't what I wanted to do. I'm the type of person that if I want to do what I love, I have to do it. I would never give that as advice. I had a lot of dark days. I didn't have five dollars to get something to eat.
Scott: You have to be willing to spend every fucking dollar in your wallet.
Andrew: Or that too. If you don't have fifteen fire tracks, and twenty thousand dollars to invest in a project you are not going to make it.
Scott: We don't wish this upon any one else. But- that's technically bad advice… It's up to you if you are going to be successful today.
Andrew: Those dark days shaped me into the person I am today. I hope that I never get too pig-headed.
Scott: Those dark days keep us humble.
Andrew: Syrup sandwiches for life.
It doesn't have to do with gender- it's about music. It's about the fact that, people start policing what others are allowed to listen to, to think, or enjoy.
You just dropped some pretty eye-catching merch in the 'Did you just assume my genre' shirts. Has there been any backlash on the release?
Andrew: You know I haven't heard it once, but I was expecting it, for sure. We are LA kids and we are trying to get out of that mold, but it was an ongoing joke, about the gender-shit, it was nothing really serious. I think they are taking it as lightly as us.
Scott: You think we would.
Andrew: We don't mean anything by it for sure.
Scott: At the end of the day it's just a joke. Why would you not want to start a conversation, if you really do feel passionate about it.
Andrew: Even if it did trigger them, I don't see how it would trigger them negatively, if anything we are using the same type of defense for music.
Scott: It doesn't have to do with gender- it's about music. It's about the fact that, people start policing what others are allowed to listen to, to think, or enjoy. For instance, some one says, "Oh you like Riddim, Riddim is really Dubstep", or "Oh you like big room, big room is dead, it's been dead for years. " As an artist you don't want to be held to a genre.
Andrew: Not even for a single track. When we go into a song we just try to do our sound.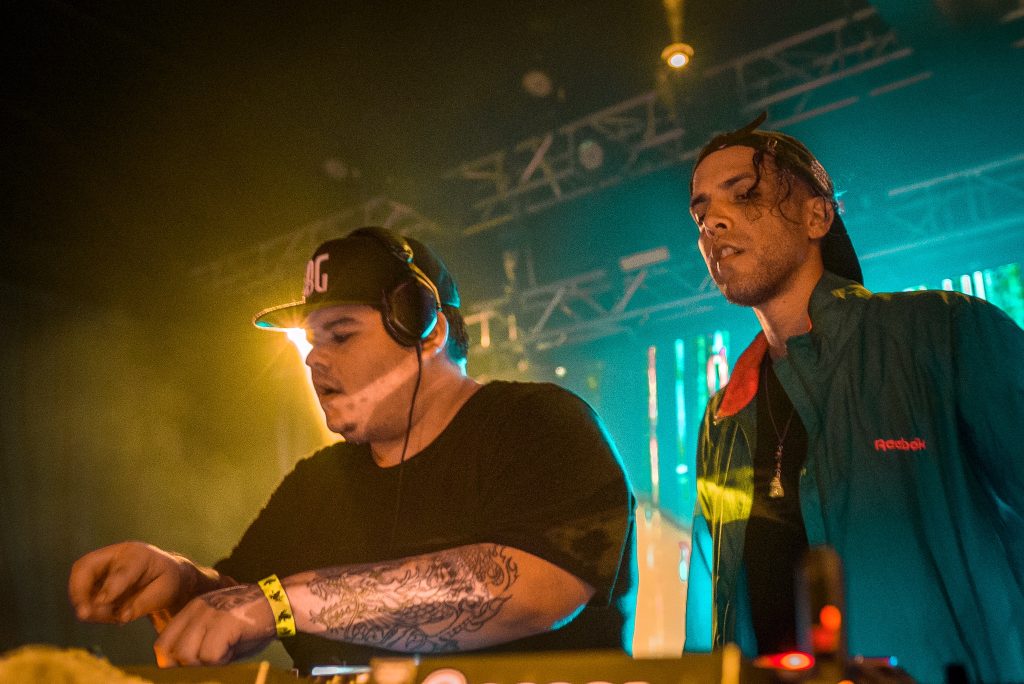 I always thought of it as making Dubstep with four-four drums underneath it. That's how I always looked at it. Honestly, from a producer stand point, just by moving a series of drums. I think that's why I don't understand genre-nazis, because electronic music is very similar, and it's all the same.
Do you have a direction for your sound?
Andrew: We just don't care any more. We are songwriters. We are musicians now. We owe a lot of where we are now to the Bass House movement, we were just starting when the UK reached out to some of our immediate friends, and we were really the first people to do it, you know, the break beats, with the bass, and the Dubstep sounds, blah blah, we were the ones, that's why I respect the producers of our era, because we take a sound and be super anarchist with it.
Scott: That's what Bass House is. It's a weird spin-off of Electro House.
Andrew: I always thought of it as making Dubstep with four-four drums underneath it. That's how I always looked at it. Honestly, from a producer stand point, just by moving a series of drums. I think that's why I don't understand genre-nazis, because electronic music is very similar, and it's all the same.
Scott: Our music is always evolving, the stuff that we have that is not released yet, is leaning towards future bass sound, but I wouldn't say our music is headed that way. We could be making totally different music next month. We could have the urge to do really heavy dark stuff.
Andrew: We want to do a lot of writing. We are inspired by what the Chainsmokers are doing, we want to have a career and make a life off of music. And in order to do that you need to song write, you need to make lyrics that you will play for a crowd and everyone knows the words to.
Scott: It was funny- when Bass House was out I was already over it. So it was a natural transition to other genres.
Andrew: You have to be a trendsetter; you have to do something really original in order to stand out. You can't be the person following.
Scott: Exactly, because how are you going to stand out when there is so much noise out there? At the end of the day it comes down to great music and your branding. At least from the live perspective, we want to aim towards doing live shows.
Andrew: We are working on finishing a 12 track album that we want to play live.
Scott: Yeah, like Andrew will have a drum pad, doing loop drums for example, and I'll have a launch pad for melodies, or we could have a keyboard, Andrew could have a guitar. We want to be able to do that by the end of the year.
Andrew: We have putting more effort into this album.
We want to make music that conveys a message.
How is this different than your previous work?
Andrew: I call it the Slander method, because I always admired them coming up. I admired how their managers approached everything, and how they did it personally too. They did it in order to build a brand, they were putting out tracks very consistently.
Scott: One song every three to four weeks.
Andrew: They were pushing the fuck out of them, they were doing their branding, and we went into our project like that. In the end, I don't want to make music, to make music, I want to make music that means something.
Scott: We want to make music that conveys a message.
Can you tell us about the re-branding and what the transition was like?
Scott: We weren't planning on that, but imagine the duality of two people, Two Owls, two different sides of the stage, and we have always had an infinity to duality, so the concepts of Two Owls encapsulated that for us.
Andrew: The Insomniac article — we kept it a secret until that came out.
Scott: We are really grateful for them, and for the article they wrote.
Andrew: It was a blessing in disguise, because even though we were making great music, everything has a shelf life. Before, we were like, "fuck what are we going to do?" I felt like we had hit our peak with the Nightowls brand, and we were hitting our peak with the Bass House sound. There is a shelf for everything. Did we pigeonhole ourselves? Then this opportunity came around, and even though we have a lot of sleepless nights, and we are basically out of money.
Scott: They helped us out a lot with the re-branding thing.
Andrew: I don't know many artists who could have done what we did.
Scott: So technically we only started in April.
Andrew: A lot of people considered us with them– the Nightowls brand. At the time, we were barely starting to get to that tier, or the comparison to the artists that we were always looking up to. We had a lot of anxiety in the beginning.
Scott: We are both control freaks.
Andrew: We didn't have management. Our manager Dustin, we all went to those meetings together, and combined with them, there is nothing that can really stop us. Now that we are with, Paradigm, the best label for electronic artists, and the Insomniac backing, everything is going really good. We just kept saying it was going to happen. And now everything we had planned for the next six months is happening.
What's your greatest accomplishment?
Andrew: Yesterday at Global.
Scott: Yeah.
Andrew: At Global we drew in a huge crowd to our stage.
Scott: There were probably three fours rows of people, and we started playing, and within ten minutes there was a wave of people rushing the stage.
Andrew: It shows us that we really do have fans, and it's weird for me because I'm a normal dude. Like at meet and greets, like why do people want to meet us?
Scott: The crowd kept getting bigger and bigger and was like sustained.
Andrew: We are playing Nocturnal; it's going to be double the size.
Scott: But we are never satisfied.
Andrew: We are workaholics
As the momentum builds, fans can expect to see Two Owls hitting the stage at Nocturnal, Dancefestopia, and other major events this fall. Beyond that it's hard to say what these two will do with the sounds that they are crafting. FUXWITHIT will definitely continue to hold it down for them, and cover all the excitement that is sure to be in store.
Head over to their site to peep the controversial T's, and see more information about their upcoming appearances.