It's the first year I've ventured out to the WayHome Music and Arts Festival, a 3-day event produced by Republic Live who are also responsible for the country music festival Boots & Hearts. WayHome celebrated it's 3rd year of existence, and the sprawling, custom-made Burl's Creek parklands near Barrie in Oro-Medonte hosted a lineup of major names as well as many Toronto locals. I had been skeptical of WayHome's importance compared to some of the more musically-defined events I usually attend. The headliners were hit-and-miss in terms of demographic; not a ton of people I know are fans of both Imagine Dragons and ScHoolboy Q, for instance. But I was proven wrong in my assumptions that people would not enjoy it all. The collection of world class performers, coupled with the lighting design and intimacy of the stages, created a unique live experience that trumps a lot of other events with sheer professionalism. Plus, I gained deeper respect for every artist I saw, which is what it's really about.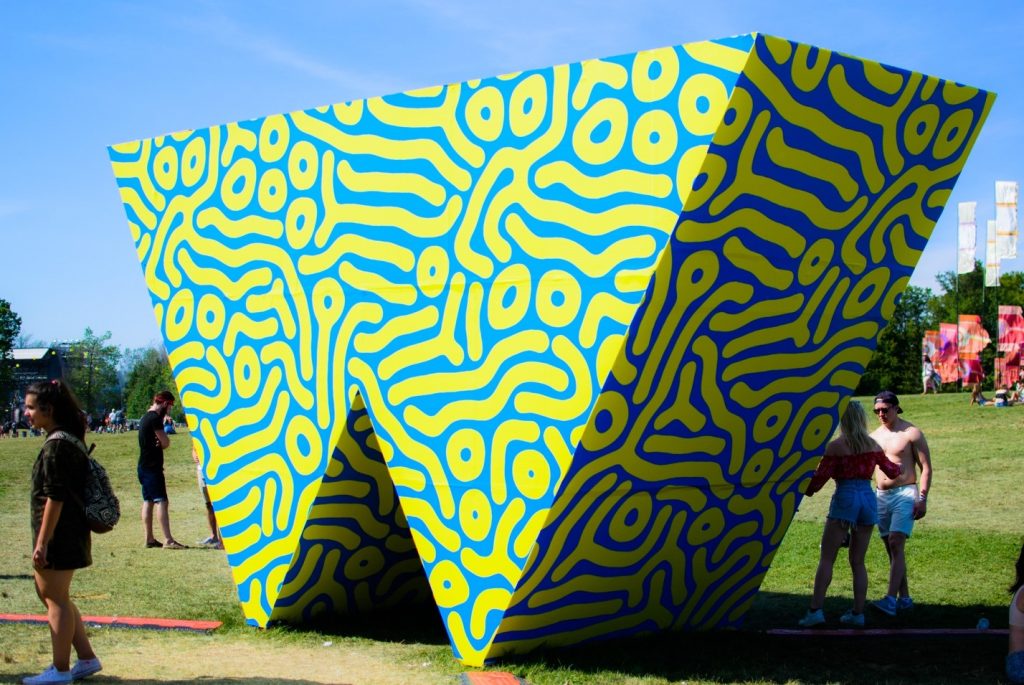 The entry gate 3D logo.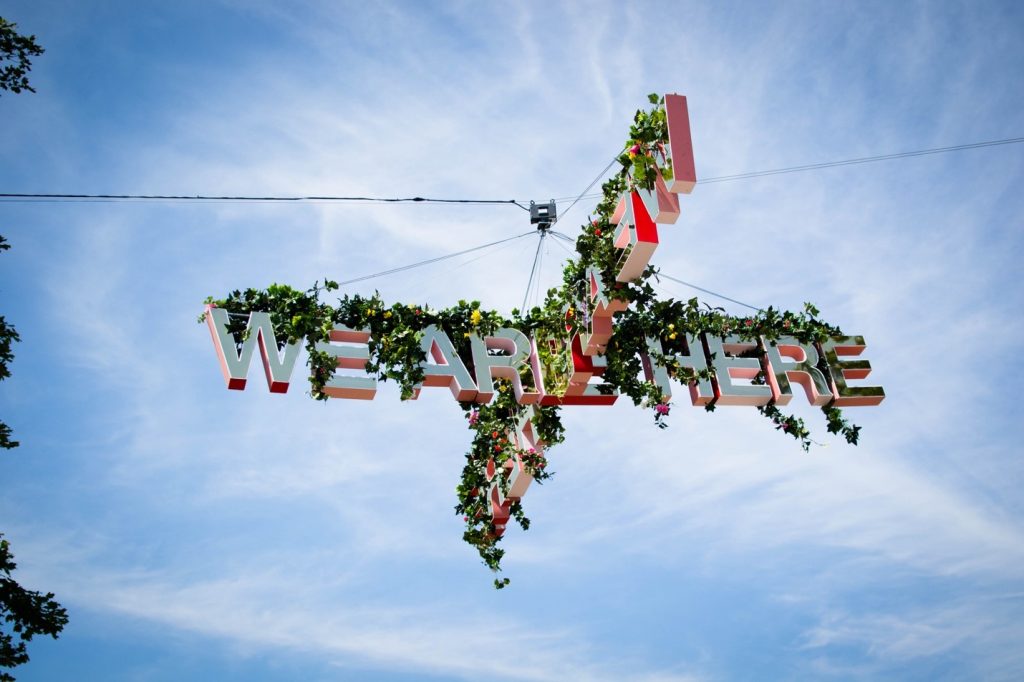 Cross-roads find-a-friend WE ARE HERE sign.
I loved the festival food, which was vegetarian-friendly and fresh. My fave dish had to be the pulled jackfruit sandwich from the Kind Kitchen truck, a vegan establishment out of Orillia, Ontario.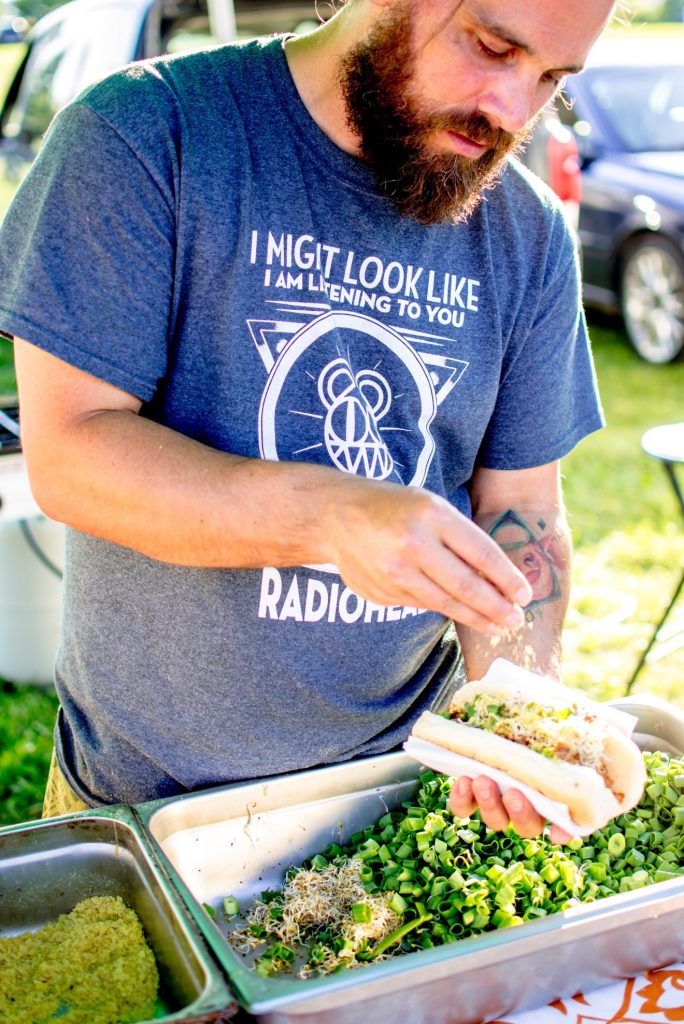 Kind Kitchen serving up pulled jackfruit.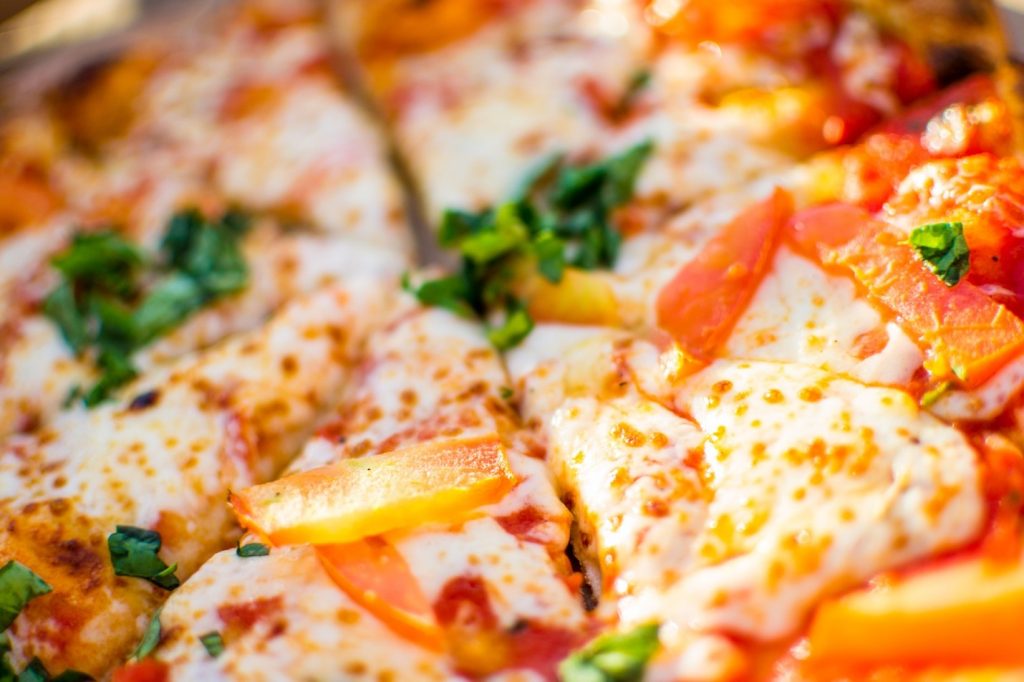 Wood-oven fired margherita pizza.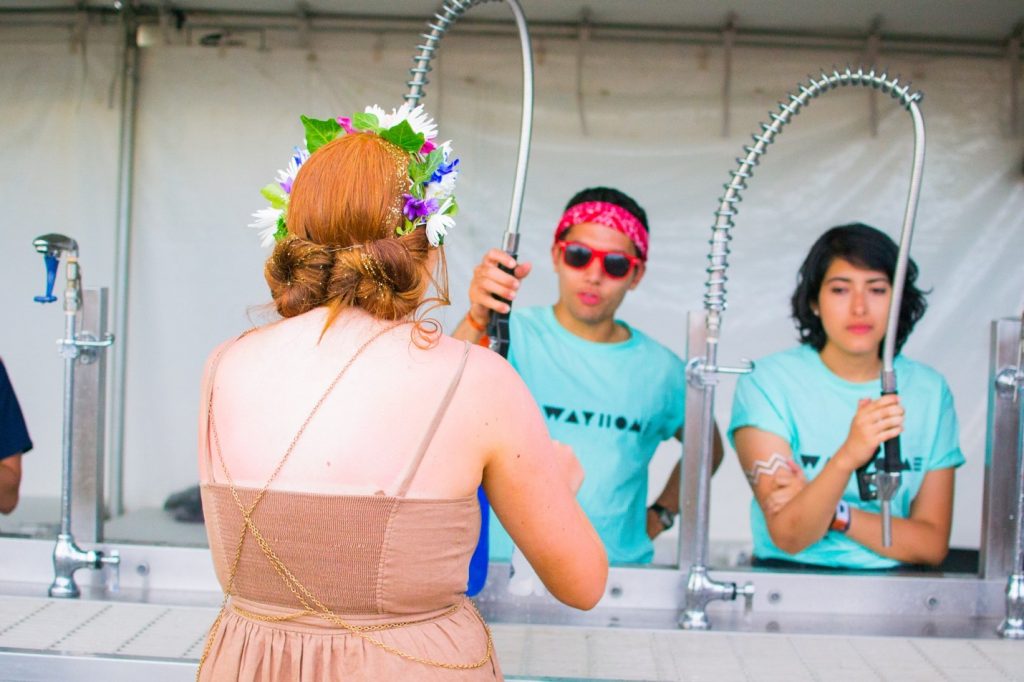 Access to free cold water at WayHome was the best I've ever experienced.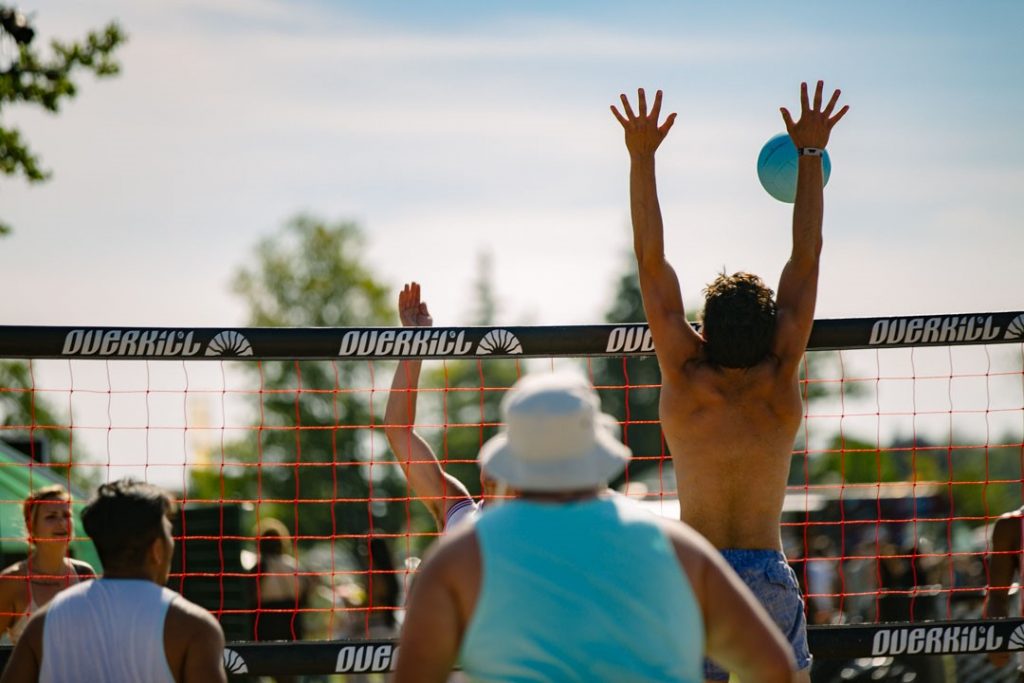 Active opportunities at every turn.
The best activation goes to Topshop for their amazingly executed art installation rooms by local designer/artists, although MEC had a great one which offered hammocks, slacklining, lime slushies, and wifi…Oh, and I can't forget the endless party going on at the Bacardi bar – it was like what Montreal is to Toronto.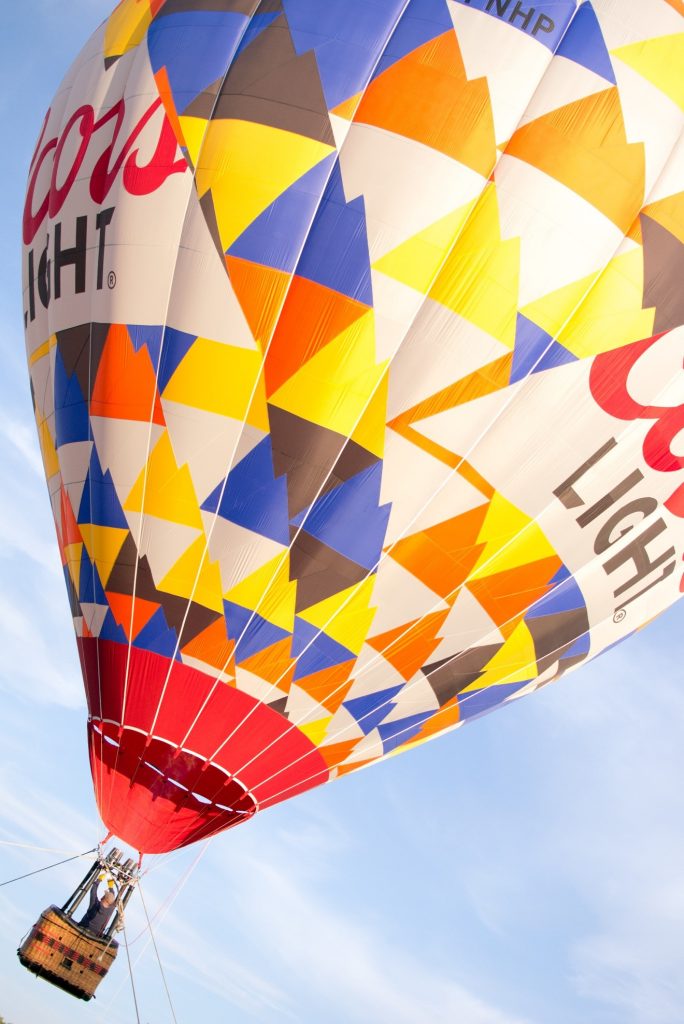 The Coors Light hot air balloon on one of its only forays into the air.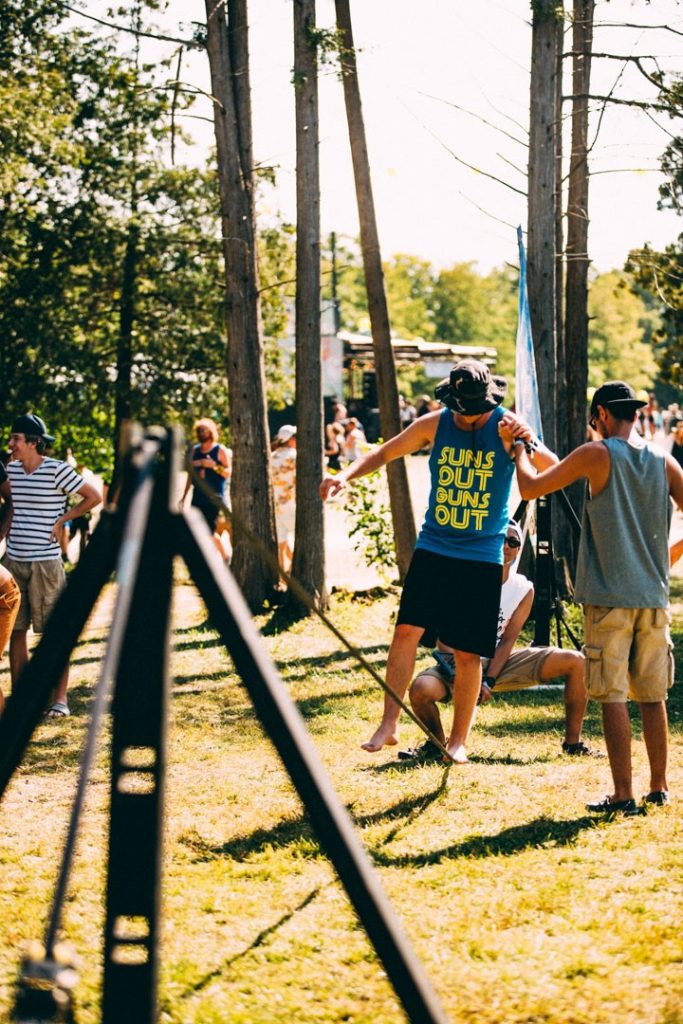 Festival-goer's balancing act.
Exploring the installation for Topshop.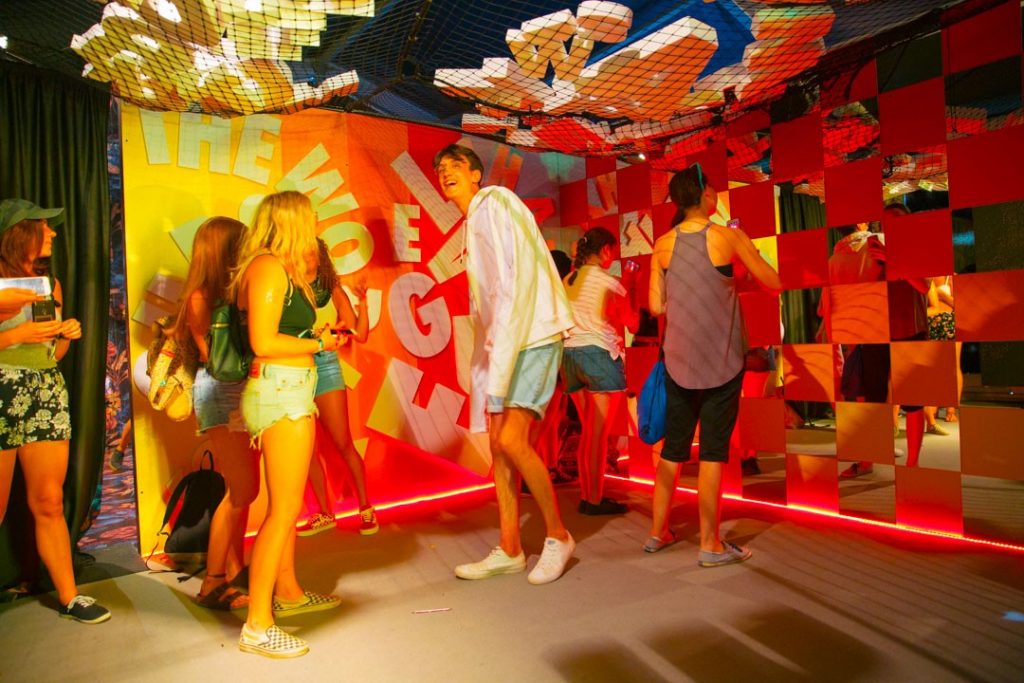 Photo ops in the Topshop tent.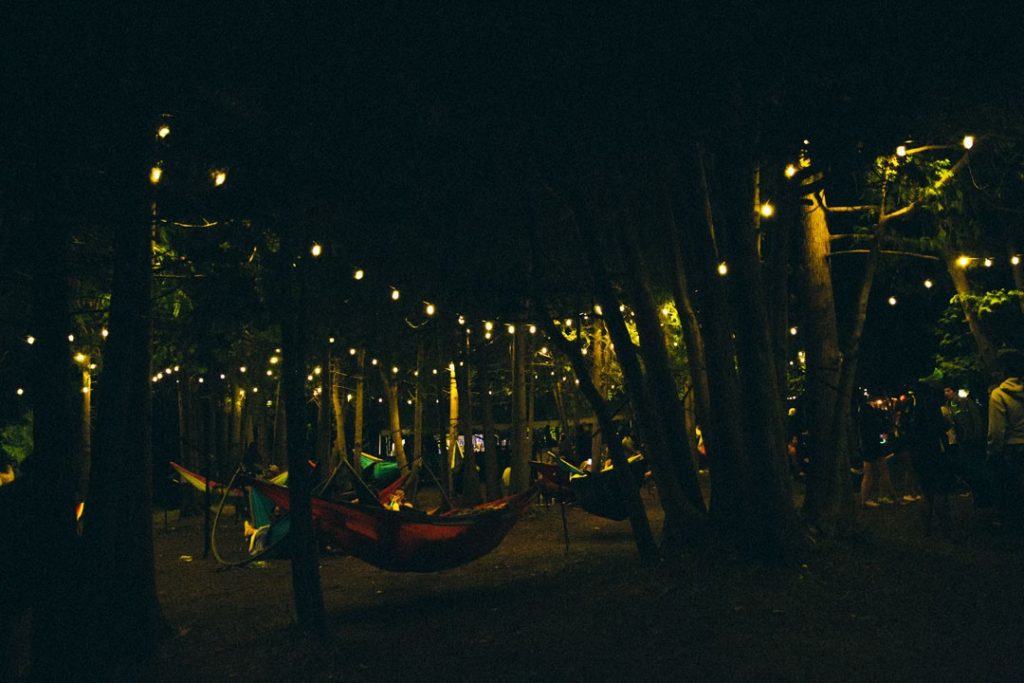 MEC rest and relaxation zone. A spot so popular, it was full the entire festival.
There has been some coverage of WayHome's small turnout this year and speculation as to whether it will return. It seems like a giant feat to stage a multi-genre festival with thousands of visitors, and the Canadian dollar does not make it any easier.  But I, for one, hope there is a continuation of the proudly homegrown fest that is WayHome. With the passion of those who stage WayHome to bolster it, I don't think it'll go without a fight. Ultimately, this type of talk takes the focus off of what we are all here for – the love of music. WayHome had everything a true music lover could want. The sound quality, visibility, layout of festival grounds, and amenities covered all my needs as I took in about 8 hours of live music 3 days in a row.
To get to FUX-specific coverage, we hit all your must-sees and more. Here is a breakdown of some of the highlights for you and some snaps of the action.  
ALLAN RAYMAN
Allan Rayman, the guy with the posters plastered all over town (Toronto) that say "Do Not Support Allan Rayman at WayHome." I cannot find any basis for the posters other than branding and advertising for the artist. This Wyoming native who has been working out of Toronto has started making major waves thanks to his throaty, earnest vocals, mystery man persona, and strange but wonderful music videos. In person, Rayman's voice is larger than life, and I would not forgo a chance to see him play again. His presence is powerful; you can feel the breadth of his voice from hundreds of feet away. The sunny fields of WayHome didn't quite suit the moody grit and urbane smooth stylings of his band, but hey, it's festival season.
DANNY BROWN
I was excited to see Danny Brown, since I have Detroit blood running through my veins, and he did not disappoint. The rapper has flow, and fan love was palpable as the crowd chanted "ENCORE" at the end. WayHome does not have encores on the agenda, so even a very determined group of fans couldn't get it going. But whatever, he gave WayHomies what they came for, and they were totally into it.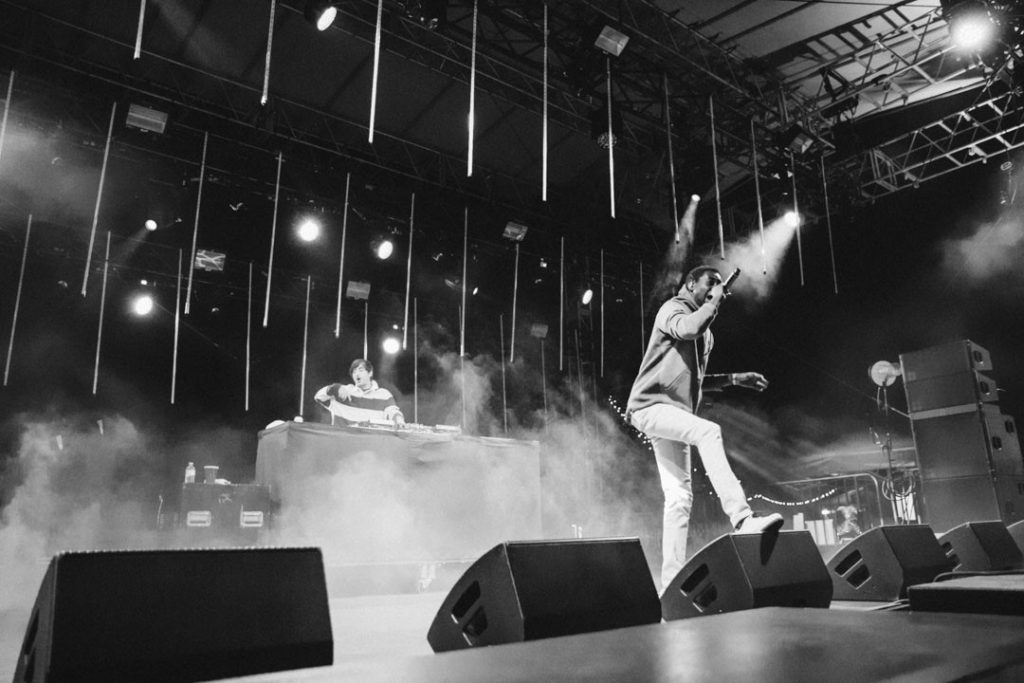 JUSTICE
The last time I checked out Justice was for a show at the ill-fated Circa nightclub in Toronto many years ago.  It was well-executed but pretty basic. So, I was curious, what did this world famous DJ duo from France have to show for their hiatus and lack of hit singles. Sure, I could not have cared less about Justice since my early-20s and had quickly sold off Justice real estate in my music world to D.A.N.C.E. elsewhere, but, memories. All I knew was that it better be good – not because I'm harsh – but because I know that a floppy comeback leads to being written off entirely. 
Well guess the fuck what.  JUSTICE IS BACK.  I don't exactly know if they left as they did manage to release a few things since 2007's massive hit record Cross, but I will say that the scale of their live show in light of the tenacity of their most recent album, 2016's Woman, makes it seem like they are trying to re-establish themselves. They've gone further into the disco rock side of things, which will lose and gain fans, we will have to wait to see how the scales tip. "Well you know you've arrived, and its time" so say the lyrics to their single 'Randy.' The light show alone was worth the trek to WayHome. Thank you for world class entertainment, Justice.  Even your casual oh-so-French cigarette breaks mid-song made me smile.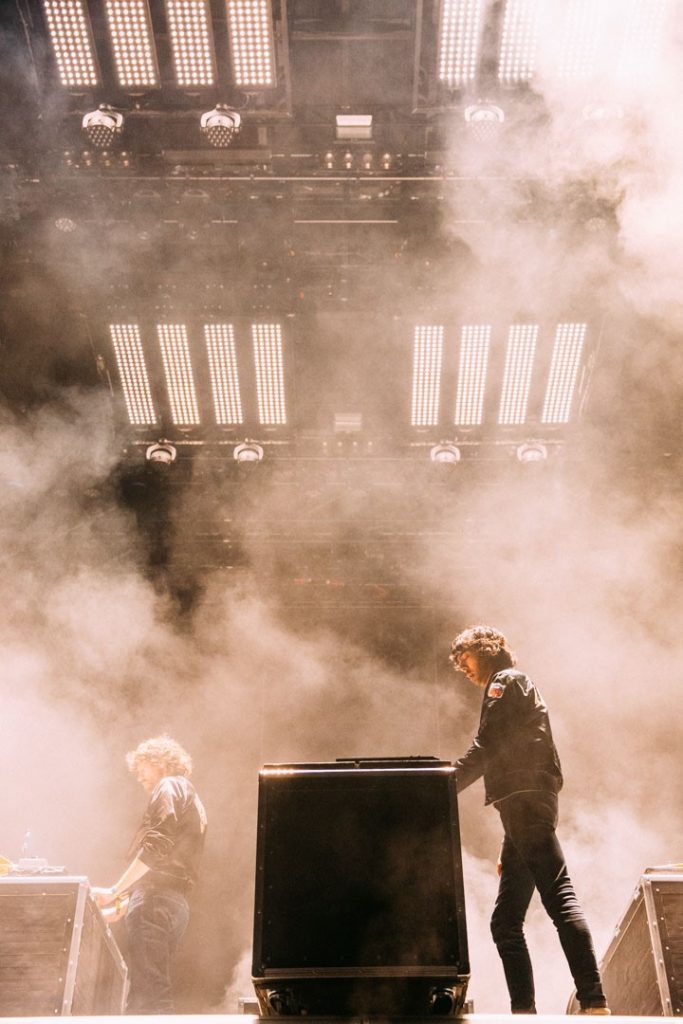 THEY.
One reason I am glad to be compiling my thoughts on WayHome 2017 after I've had some time to digest it all is that I can honestly gauge how much some of the artists got me.  THEY. is #1 on the list. I seriously cannot stop listening to this vocalist/rap duo based out of Los Angeles. Their catchy pop-like R&B meets hip hop, rock, and soul draws me back every day. They took a sunny afternoon at WayHome and a simply-lit stage and made it into an event unto itself, occasionally breaking into matching choreography, reminding me of 70s performers like The Whispers.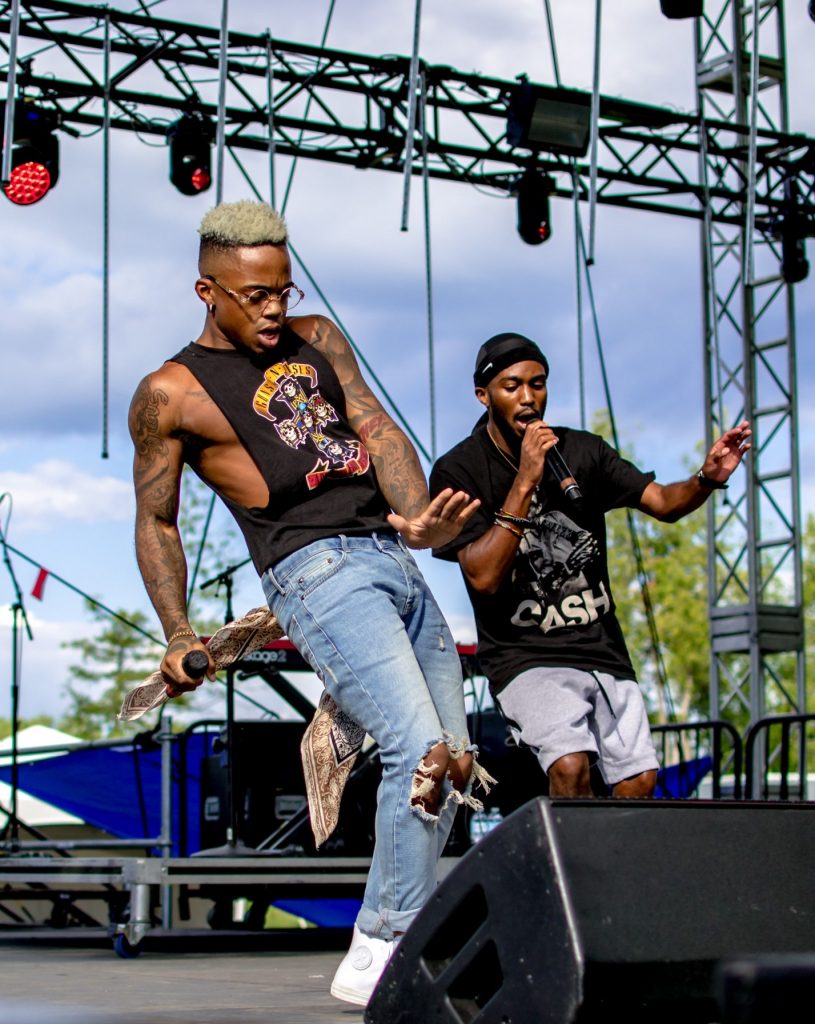 Drew Love and Dante Jones of THEY.
I had the sensation I was at an underground hip hop slash Boyz II Men show – what!  Drew and Dante, the pair who comprise THEY. both have some impressive writing credits to their name, and the originality of their sound and lyrics speak to it. Mellow yet forthright, THEY. have a playful persona live just like on their tracks. The whole crowd joyfully joined THEY.'s Nü Religion – as we all held up our hands to be part of the "wolf pack" – which involves making a wolf face with your hand and repeating some cultish sounding lines – it's great. Their confident, sexy live show translates from great tracks into great entertainment.  As they grow, I hope to see more of their politically-charged stuff, but also hope they continue to produce appealing singles like 'U-Rite' in the mix. Special shout out for playing their hilarious song 'Dante's Creek,' which is a much better song to get stuck in your head than its original version.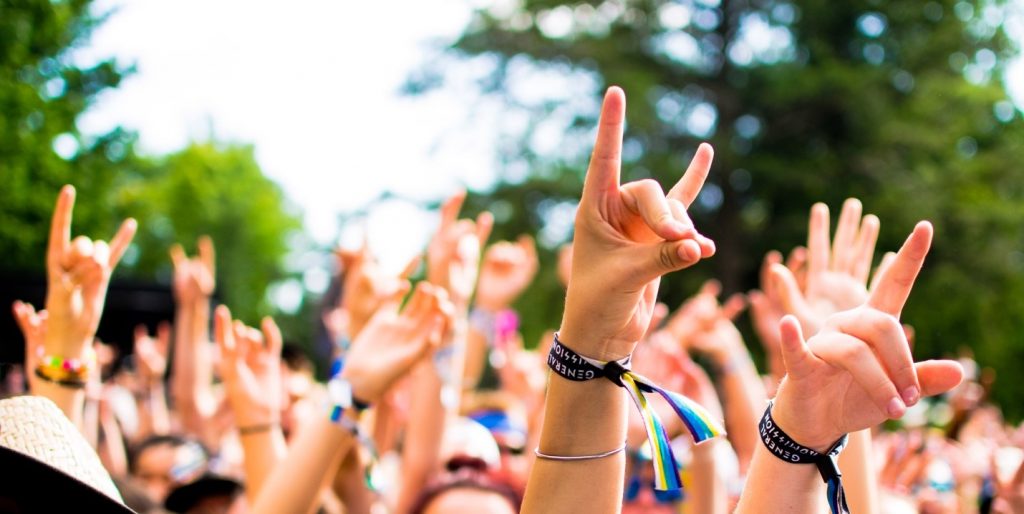 SCHOOLBOY Q
After a 10 minute warmup by DJ Mackwop, ScHoolboy Q came out hitting hard with a presence that overtook the WayHome mainstage. Charismatic banter and big time bass, the crowd was transfixed in Q's grooviness from his first step on stage. 'Collard Greens' was definitely the crowd favourite for all fans, but Q went back into the catalogue and delivered his lyrical punches with no apologies. The bass almost on par with the electronic acts' sound and the heavy beats felt like they could fill a couple football fields. ScHoolboy did a bunch of covers, which was fascinating to hear. Kind of like, I wonder what it would sound like if…oh that's what. Cool. The WayHomies ate up every moment.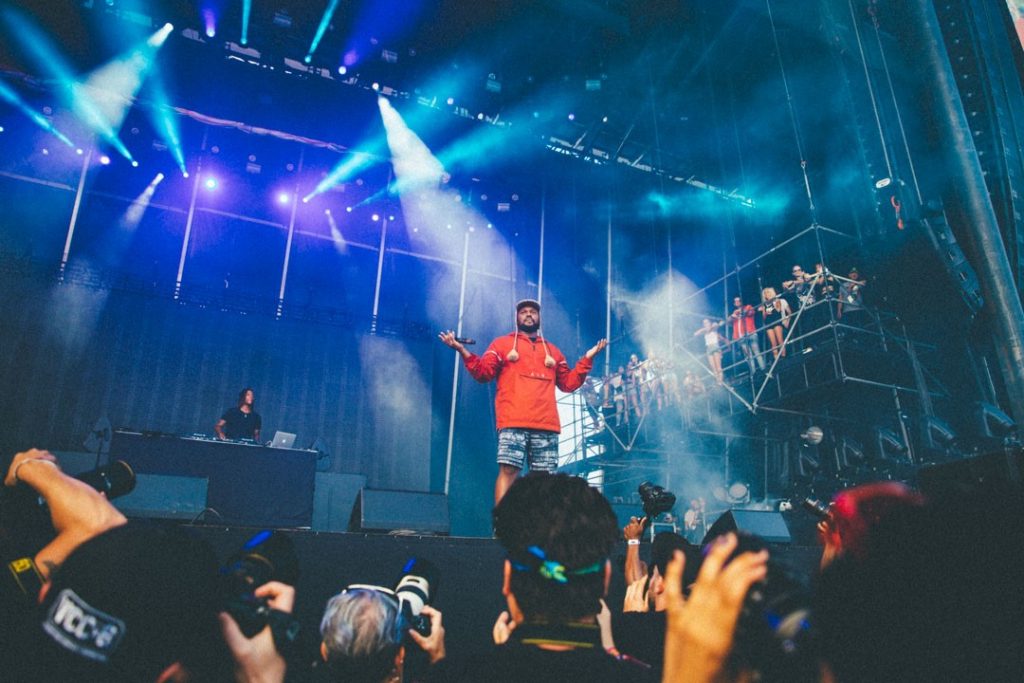 JAZZ CARTIER
One of the most talked-about performances at WayHome this year has to be Jazz Cartier's. The Toronto rapper has become known for his antics on stage and he did not disappoint.  His bright red jacket, shed partway through the show, made for a strong entrance, as he posed for cameras and hung off stage elements. He moved the crowd like ferrofluid, people hung on his every word; there was a certain fever in the air. Jazz javelin- hucked a janitor's broom into the crowd.  Instead of getting knocked out, people jumped for it and paraded it like a trophy (totems are very popular at WayHome and one donated by Jazz Cartier has cachet).  
Of course, the grand finale trumped every other moment of the festival for me, and I seriously considered what it might feel like to get trampled. Jazz dared us to beat him to a nearby food truck. He wanted to celebrate being Canadian and being with his local peeps and what better than to stand on top of a food truck that serves poutine. Thousands of eager fans rushed the Moustache Burger truck, surrounding it while we helped him finish singing the now in heavy rotation track 'Dead or Alive.' Jazz Cartier withstands all hype and I see nothing but up for this artist. Those who were lucky enough to witness him at WayHome 2017 will have a story for years to come as his fame grows.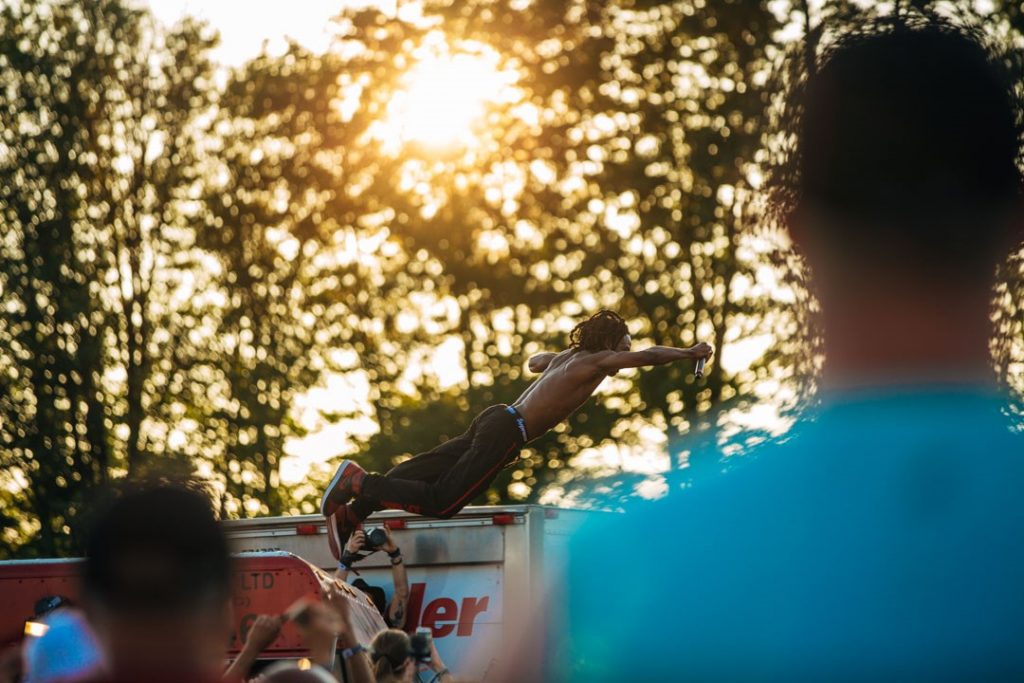 Jazz Cartier launches himself into the crowd.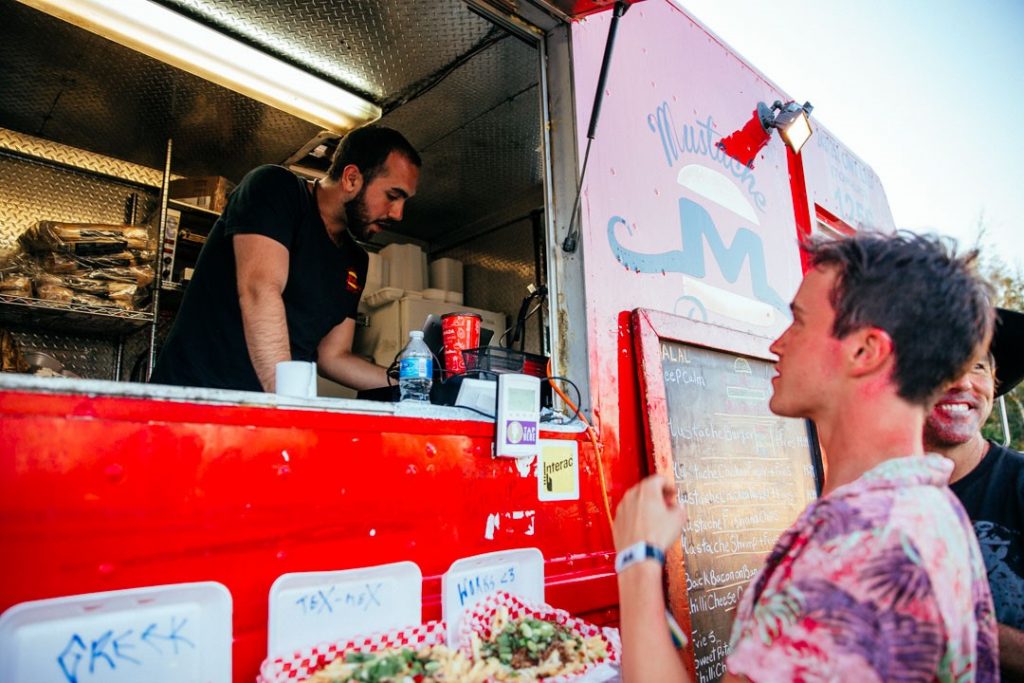 Business was booming after Jazz featured the Moustache Burger Truck in his larger than life performance.
LOUIS THE CHILD
Louis the Child, a DJ duo out of Chicago, got the crowd into full groove mode right off the bat.  People were ready for them, and they had a sizable base of listeners in attendance at WayHome. Their minimalist crown logo was apparent in clothing and signage amongst the crowd. I loved their energy and the fact that Robby Hauldren wore a Raptors shirt. Of any of the performances out in gorgeous weather in the Southern Ontario summer, Louis the Child's brand of poppy future bass fit most perfectly. Nothing like a summer afternoon and some fun, carefree electronic music to dance to.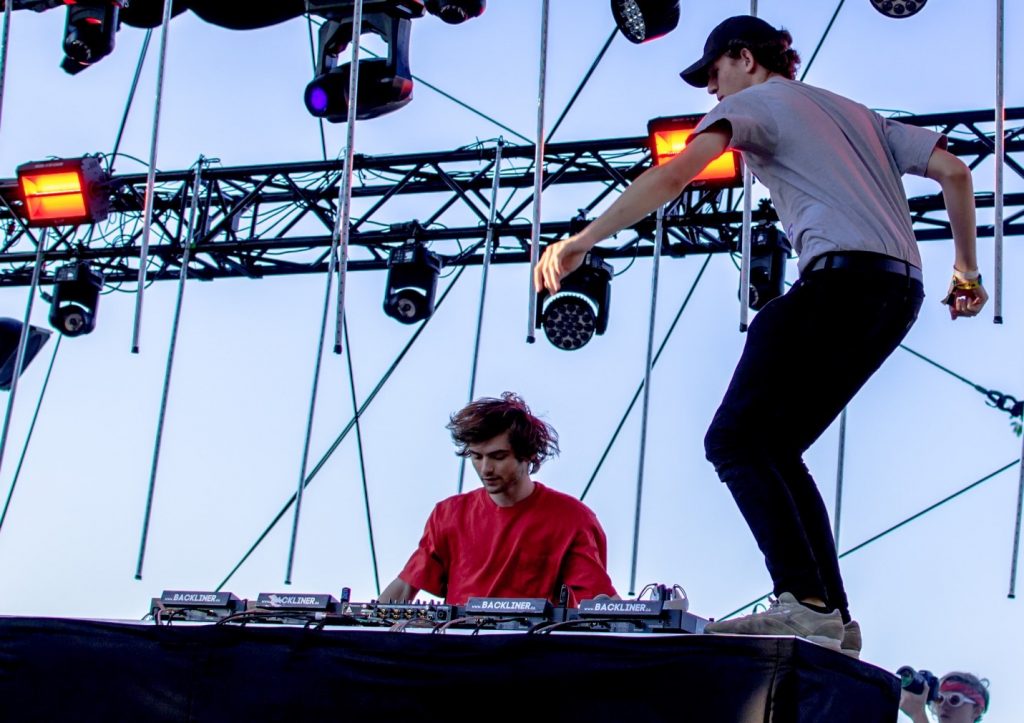 Robby Hauldren and Freddy Kennett at the WayAway stage.
MARSHMELLO
I had to check out Marshmello, the (not-so)mysterious DJ who wears a white bucket on his head, to see what all the buzz about was about. I joined throngs of electrified fans, nicknamed the "mellogang" as they witnessed his set.  It's fascinating that he is one of the top-earning DJs in the world right now after only 2 ½ years since his first track release. The pyrotechnics and video were incredible, but all too rehearsed, too perfect. I ended up leaving partway through, feeling like I'd just gotten to see the coolest wedding DJ ever. It was interesting to see the Mellogang just randomly repping their idol throughout the weekend, and as far as 100% entertainment goes, Marshmello definitely brings a lot to the table.
DANIEL CAESAR
A warm dusk, string lights amongst the trees, calm multitudes waving in tandem to the smooth sound from Daniel Caesar's stage at WayHome. Everything aligned to create a beautiful place to experience Toronto's crown jewel as he soothed our ears with his spectacular vocals and talented band. This feels like modern R&B, it's the music of lovers, and I could have spent hours in Caesar's dreamy soundscapes.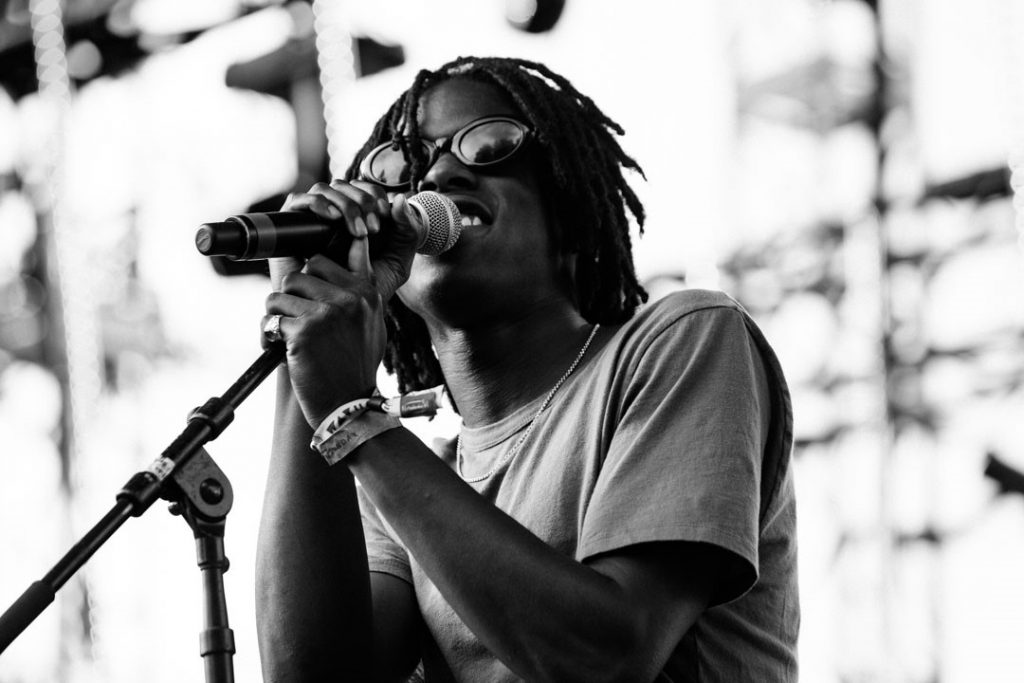 #PERRIERFAIL
One of my bones to pick with WayHome was the Perrier stage. With a mandatory 19+ IDing happening at the door, a lot of people in the 'cashless' festival grounds were left out in the sun as they did not have a driver's license tucked into their summer wardrobe. Once inside, it was well below 18C and slim cans of Perrier cost $3.75 – just give it away, it's called advertising. The prominent DJs they collected, tasteful and au courant, were wasted on small crowds due to major headliners like Frank Ocean playing at the same time. What could have been a fantastic escape from the heat with a gathering of some of the coolest DJs in the industry was a frigid ice box with bad service and low attendance.
FALCONS
An important stop on my WayHome tour was to see Falcons, the Los Angeles producer on Fool's Gold records. Falcons did a chill set for us on Saturday afternoon, his hip hop-influenced dance music is playful and the vibes were happy, and it's where I danced the most all weekend. His transitions were smooth maintaining energy with ease. It was a solid set, well worth catching.  One megafan I spoke to said Falcons set "was better than Flume," and I'd agree. Next time, I need to see Falcons after sundown and in a place with a huge dancefloor.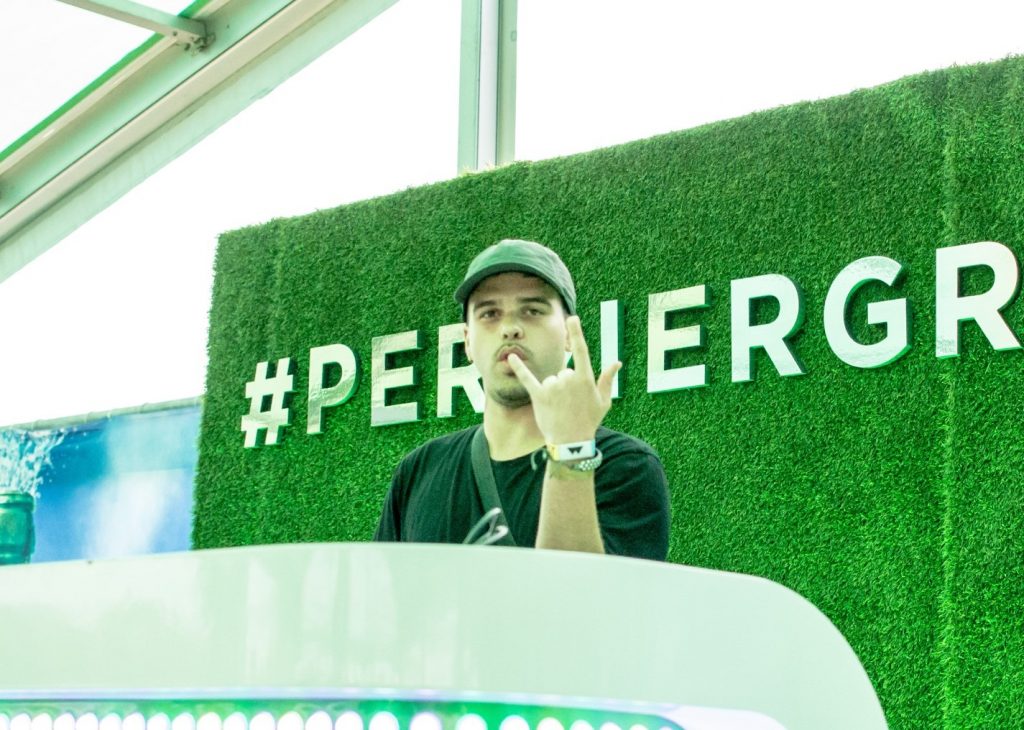 RYME
The tent for RYME's show had a lot of Badlqqk merch on bodies. It was cool to see a local techno/house DJ duo and a local record label so well represented at a festival with a ton of American and international acts.  The energy was high, and ended with some great dancing by Rynecologist.
FRANK OCEAN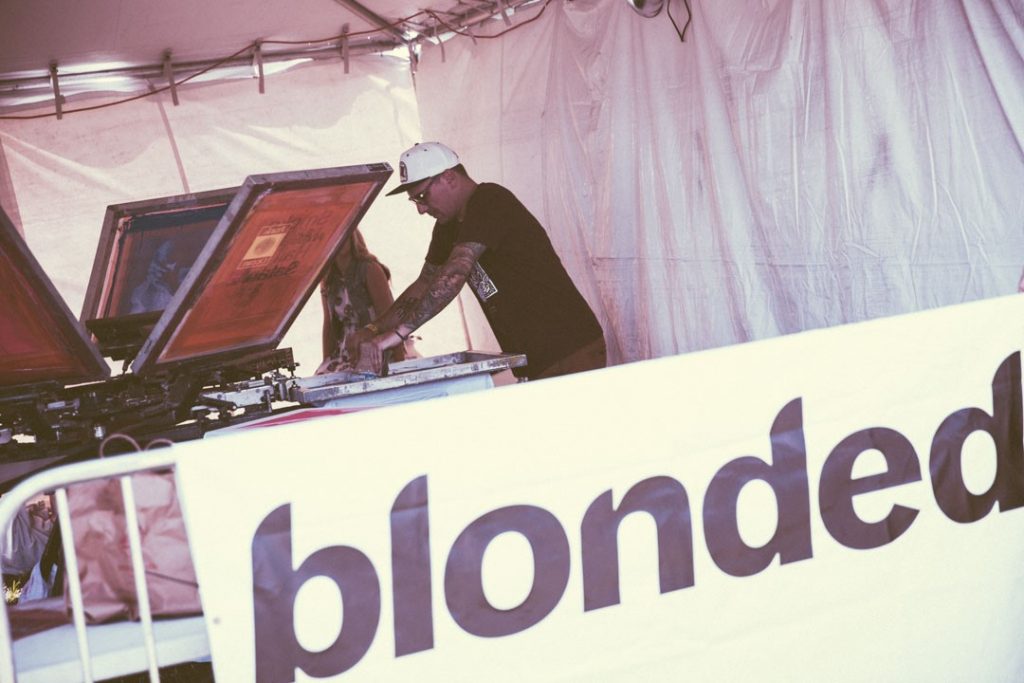 Team blonded.
FRANK was everything you could hope for and more. We put the cameras away for this set and tuned into the frequency that is the creative genius of Frank Ocean. Spike Jonze behind the visuals. Frank Ocean behind the sound. The harmonistic intimacy felt in the biggest crowd the 2017 festival had seen, was a fusion of hi-fi artistic realness and surrealistic low-fi viz that must be experienced for yourself. Must.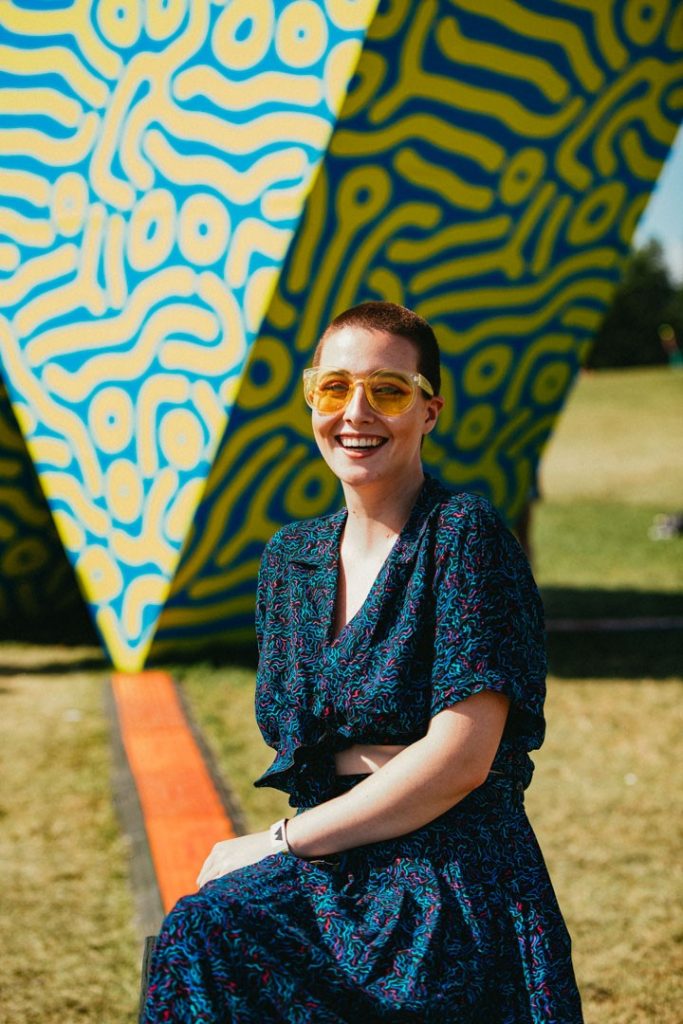 Day WH2017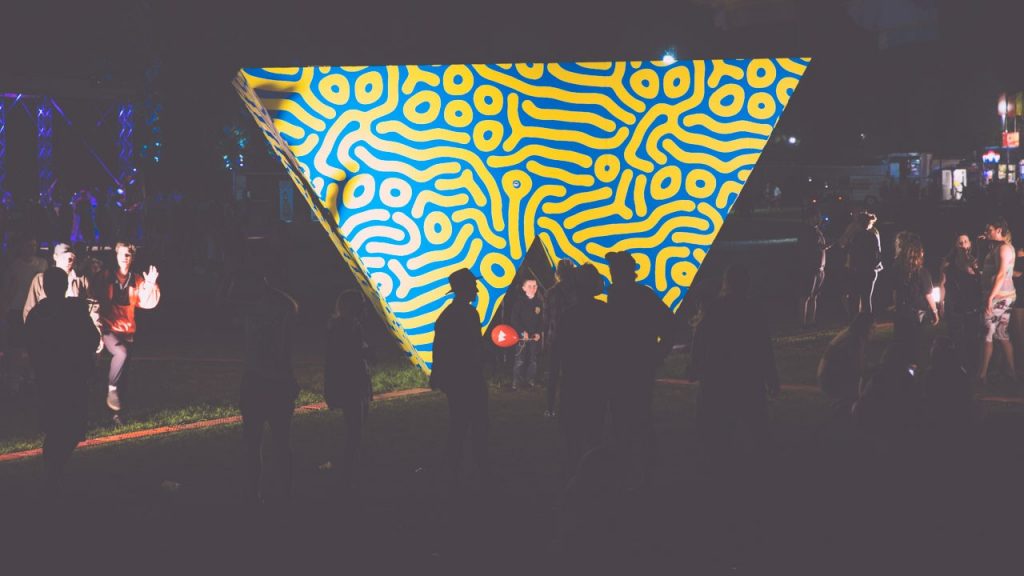 Night WH2017
WayHome is a space for music lovers of all ages and genres. We hope to see it back.
Word by Karis Malszecki. Photos by Eryn McCarthy.