Dead Royalty Productions has been in the game for just under a year, yet their events always know how to fill up a venue, headlined with some of the biggest names in the bass scene. This time, they introduced the city debuts of both Space Laces & Svdden Death over at One Loft Lounge, along with support from some prominent local talent who had the room going just as hard, all night.
Opening on the decks were 2Gunz and TOAD for a b2b, with the latter's parents chillin' in the back corner, bobbing their heads to the mix their son was throwing down. By the time their set came to an end, the room was already well-packed, and showing utmost love to the locals as Thrizzo jumped up on stage next. His set started by gracing us with a pleasant opener full of nostalgic sound bites from The Legend of Zelda, which led into his remix of Skrillex's remix of 'Red Lips'. As we were getting weird to his set, Thrizzo himself was doing the same, flailing and doing the bernie behind the decks, having as much fun as we were.
Svdden Death took to the booth at midnight, and it was nonstop mania from that point on. He dropped riddim track after riddim track; this was accompanied by some wicked visuals of Bill Nye's floating, spinning head atop a vaporwave-like aesthetic, as well as clips from The Amazing World of Gumball. Speaking of which, in the visuals booth at the back of the room, the visual/creative director was losing his mind to the unreal set unfurling before him.
About halfway through the set, I work my way to the back room, to take a much-needed breather. I saw a few guys stationed on the couch, next to the Gamecube running Super Smash Bros. Melee on the giant monitor. I ask if anyone's down to play – in almost no time, we've got a 2v2, red-vs-blue game set up, ready to go. I'm paired with a very down-to-earth mate named Ian; we exchange pleasantries, wish each other 'glhf' ("good luck have fun"), and begin the match. I'm Kirby, Ian's Link – long story short, we lost yet came close, with our opponents surviving with one life each.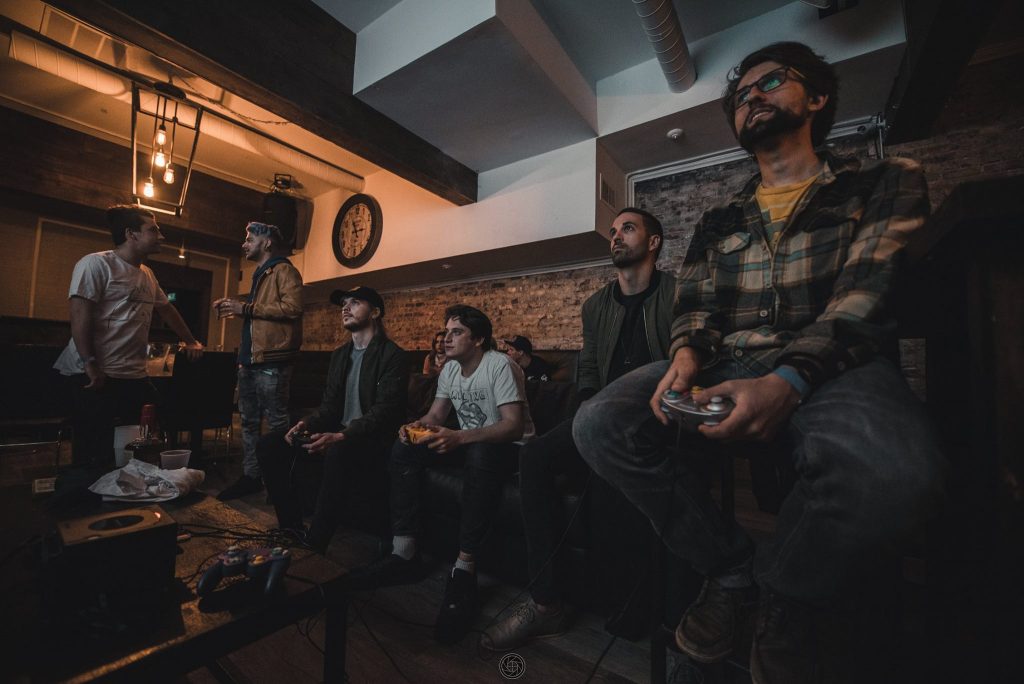 Next round, Ian picked Donkey Kong, and DESTROYED the competition. Watching him crush his opponents with Svdden Death's set going off in the background really set the hype perfectly. Nonetheless, the set was nearing its end, so we all agreed to go back out to catch the rest in its full, bass-infested glory.
I ordered a beer, which mostly ended up on myself and everyone around me as I accidentally walked into a mosh pit, before finding a cozy spot at front-left. That's when I saw Ian, who I just played Smash Bros with, chilling on stage.
"Oh sick, Ian's chillin' on stage."
…
"WTF, IAN IS SPACE LACES!"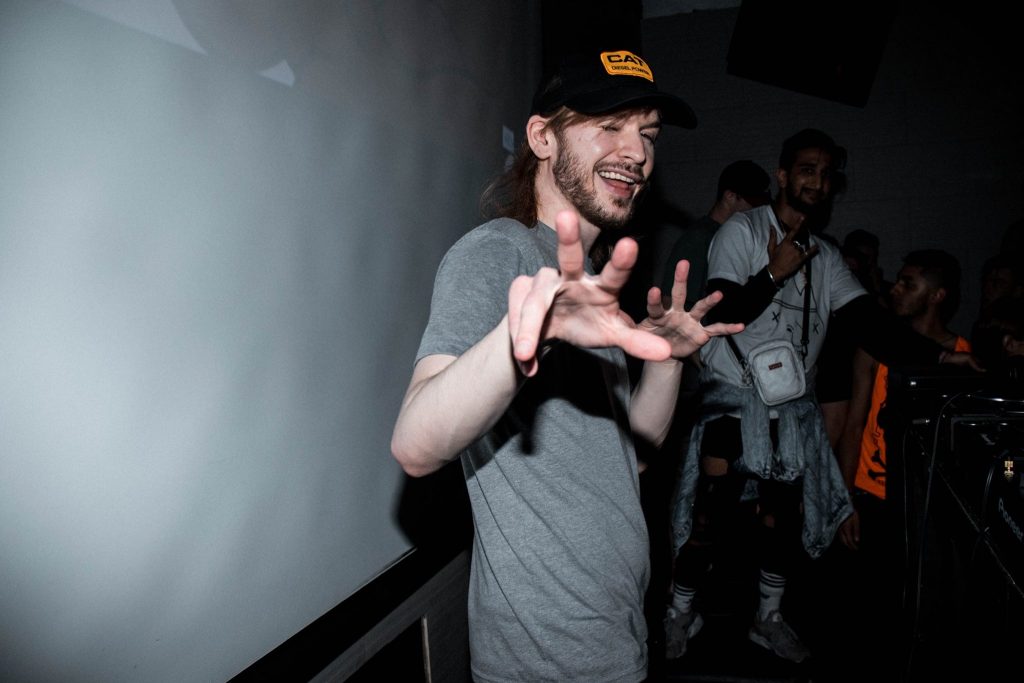 As I came across such an epiphany, I was already hollering and jumping around like a madman to Ian's set in the filthiest manner. The crowd and I really got groovy during its short yet bangin' bass-house segment, which came accompanied with some trippy space-like visuals, and scenes from Adventure Time flashing overhead on the big screen.
Of course, he dropped his smash hit with Excision, 'Throwin' Elbows', which caused an absolute ruckus throughout the entire room. Headbangers and moshers came to life, and at one point a shoe was seen flying through the crowd; the owner went flying after it, and immediately got it back on her foot before jumping back into the madness.
Skretaz took to be the closing set at 2am, yet wasn't about any sort of a cool-down. He kept the energy alive as he was in full-rage mode on stage, along with the crowd dancing as if the night was never going to end. Given how fired up we all were, it honestly felt like the night was only beginning at that point in time.
~~~
With each Dead Royalty event, the crowd gets much bigger and outputs even more energy, both on the collective level as a supportive community, and individually with each hardcore, dedicated basshead. The next event is Dead Royalty's one-year celebration featuring Figure going b2b with Midnight Tyrannosaurus on November 24th, taking place once again at One Loft. It's very likely that it'll be even bigger than what recently transpired, so get tickets and RSVP to this event while you can.
All pictures used are courtesy of Jenna Hyde and Paul Palacios. Check out more photos from the crazy night below; the full album is available on Facebook!