The priestly wonder Tchami, along with the masked enigma, Malaa, are currently undergoing their massive No Redemption tour, to help raise awarenss and prepare us for their upcoming EP of the same name. They recently made a stop in Toronto, to a fully-packed and sold-out show over at REBEL nightclub.
They were preceded by Giddy, as well as local staples Manzone & Strong. It had been a while since I caught the latter live, back when they would play the typical bangers and well-known deep house tunes. However, a lot of the tracks in their recent set were appropriately catered towards a techno/tech house crowd, and the room started becoming much more receptive to the music as they dropped the tune 'Play the Game' by Eli Brown, and onwards from that point.
It was also my first time inside this particular venue since its renovation from its predecessor, Sound Academy; I've heard stories about mainroom REBEL being a grandiose sight in itself. Although the architectural design and decorations are a new addition, the overall room layout was still very similar to Sound Academy, so I felt like I had returned home after a long absence.
I've also heard that the venue is too loud at times, which I didn't understand, given that these sorts of events are always loud in themselves. However, it was only when I walked in and wore my earplugs that I understood what my friends were telling me – the venue was of course loud, yet on a MUCH higher level than other venues around the city, rendering my earplugs less effective than I had expected.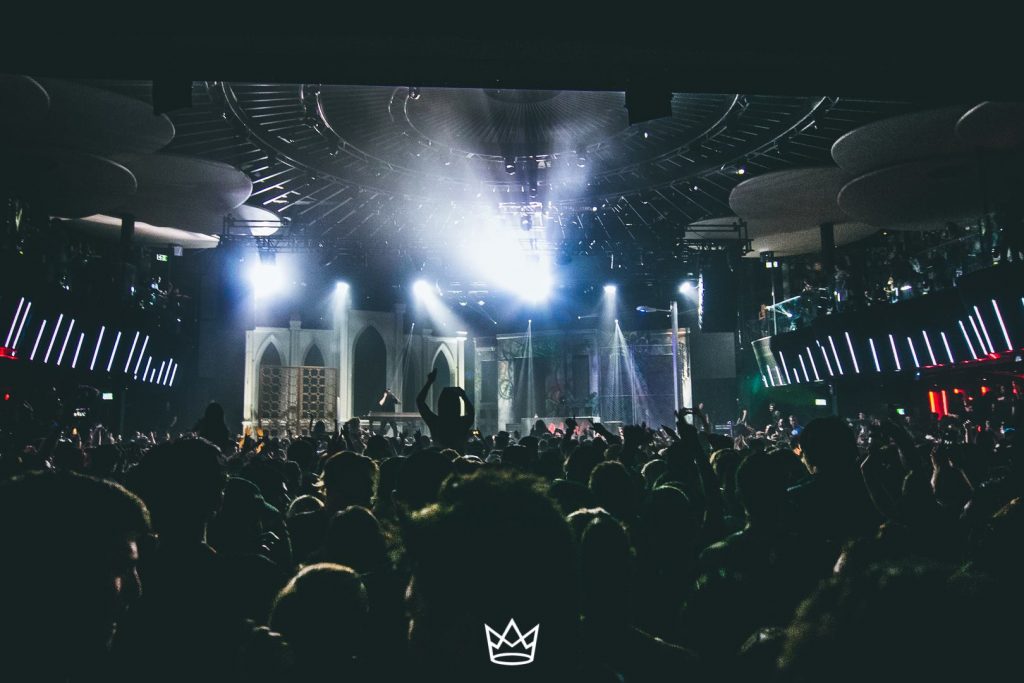 Regardless, my friend and I found a cozy spot within the crowd, and we were dancing as much as the space around us would allow for. It was also a while since I attended an event which felt like a sardine can due to the sheer density of the crowd, so all we could really do was bob up and down to the beat at most. All around us, many people were clutching on to their Malaa-branded ski masks, awaiting their mysterious saviour to descend upon them. There were also a few others who took to a liking of Tchami, sporting a look resemblant to his sunglasses/beard combo.
Prior to the event, there was some disdain to the announcement that the duo was only playing for 90 minutes overall, on top of the fact that it was going to be a back-to-back set. However, a lot of things made sense once they appeared on stage. There were two giant props, set up adjacent to each other, with each respective artist stationed behind a booth on either side of the stage, rather than side-by-side, as one would expect during a b2b.
One half was bright and church-like to represent Tchami, and the other half was an alleyway with graffiti scrawled haphazardly all over it, to resemble Malaa's aesthetic – who was also flanked by two trashcans, which would spew synthetic smoke and fire at intermittent periods.
In fact, there was a lot of noticeable attention in their dichotomous nuances. Tchami took to the somewhat lighter, more melodic side of songs that he played, and had visuals that were overall holy and serene in nature – featuring heavenly clouds, stained glass, and cathedral-esque sceneries (which resembled the world of Anor Londo, for those familiar with the Dark Souls series). Tchami could occasionally be seen taking sips out of a rather pristine chalice between songs.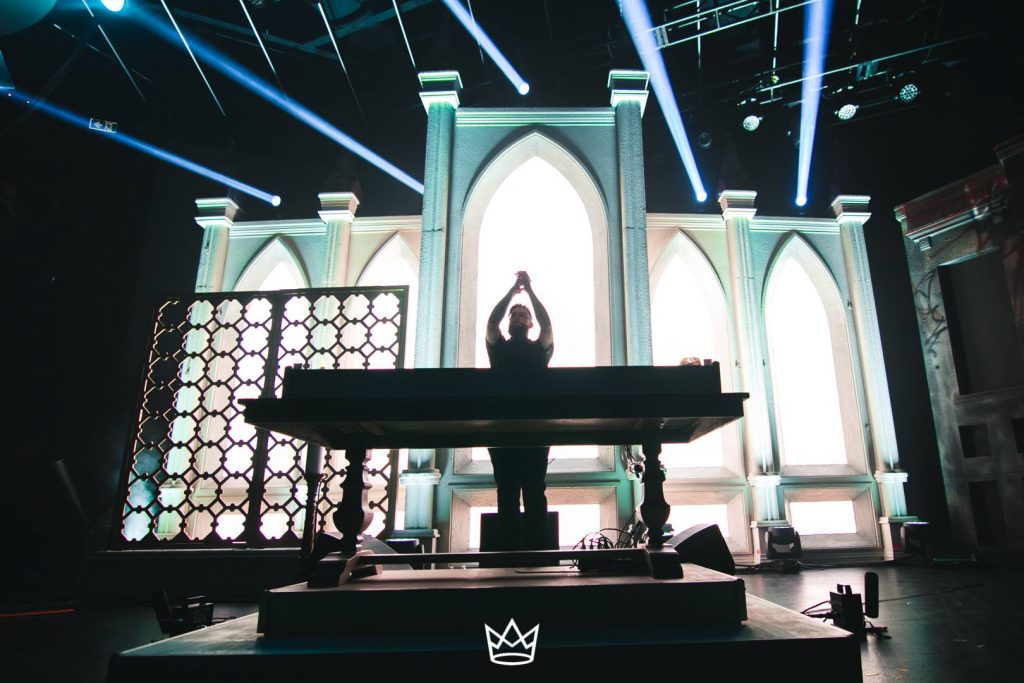 On the other hand, whenever Malaa would take over on the decks, he would go for a gritty and generally bassier g-house vibe, in comparison. His respective backdrop would flash with visuals of police lights, an urban/New York-like scenescape, and endless tunnels made out of caution tape. Malaa would occasionally take swigs out of a paper bag to quench his thirst.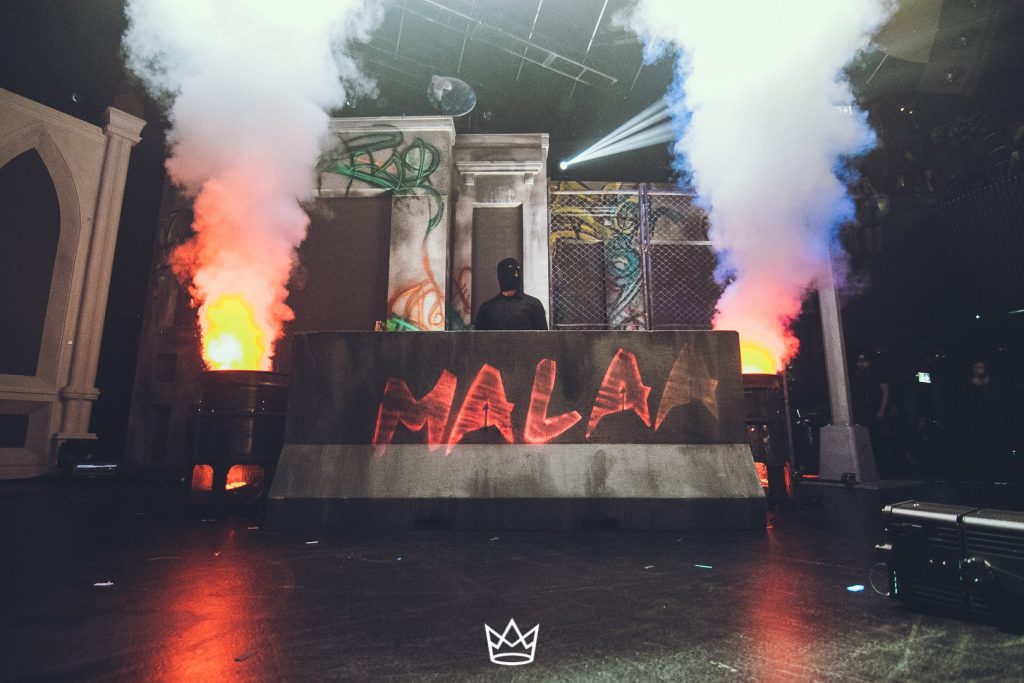 There were also some tandem moments between the two, such as when they dropped their collab tune 'The Sermon' near the end of their set, and there would be full-stage visuals flashing across the entire setup, behind both artists.
At one point, we stepped outside for some fresh air. It was during this moment of peace that I had Kaleem Taylor on my mind; however, it wasn't until I heard the drop to his, Tchami, and AC Slater's hit 'Missing You' that everything clicked into place. I hollered "NOOOOOOOOO!" in absolute joy, and instantly began shuffling like a motherfucker (along with some stranger), for a brief yet FIRE moment. All the while, you could hear the entire crowd inside singing along to the drop's synths in mad unison.
At the end of their unbelievable set, Tchami comes on the mic, uttering the only words spoken throughout the entire night: "Thank you, Toronto. Thank you so much. This is Tchami and Malaa – No Redemption. Thank you so much."
Unfortunately, there was no closer to follow afterwards, in order to give workers time to dismantle the resplendent setup. This slightly irked regular REBEL-goers, since they were not used to such an early curfew (2:15 AM); coat check was also a bit of a free-for-all, and was more chaotic than what people were used to experiencing at the venue. Despite those, everyone in the vicinity, whether amongst friends or random people they were stuck beside in line, expressed utter jubilee for what they had just experienced towards one another.
Their tour is nearing its end, with only a few more stops to close out the year. Merch and tickets are still available if you're in the area to catch one of their final shows – and if so, it's a fantastic way to help wrap up the year.
All used pictures courtesy of Daniel Klein – check out some more shots from that night below!